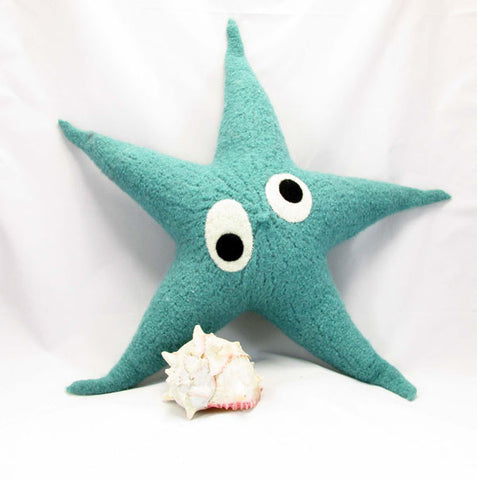 Hello! My name is Stanley. I like to sell seashells by the seashore.
I'm a Snooter-doot™ Starfish, and I'm eager to be adopted! I'm about 16" wide and about that tall, and I'm various shades of blues, purples or oranges. I was born in Snooterville Junction (aka, Ocean Shores, WA).
I'm a Limited Edition 'Doot - dated and numbered.  So, there will only a limited number of me available. 
Snooter-doots™ are hip, huggable art stuffed with charming personality! We're whimsical, soft-sculptured collectibles and stuffies inspired by nature, uniquely handcrafted from knit-to-shape, fulled (felted), and needle-felted wool. We are the perfect gift for the young, AND the young at heart as hip, huggable art and delightful décor all in one collectible critter. 
OUR MISSION IS TO INSPIRE SMILES, GENERATE JOY, and, TO LOOK REALLY COOL ON YOUR COUCH.
No two Snooter-doots are alike. Each has personality with its own name and birthday and is ready for adoption. Are YOU our forever family?
Handmade with New Materials: Wool yarn and natural fibers, felted wool, fiberfill
Related Products
---