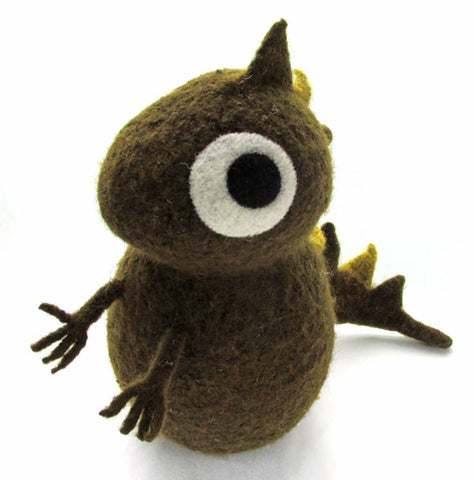 Hello! My name is Dennis. I'm a Snooter-doot™ Dino, and I'm eager to be adopted!
I'm about 6" wide and 9" tall, and I'm a mossy green color.
I was born in Snooterville Junction (aka, Ocean Shores, WA).
I like to make S'mores (and, eat'em).
Snooter-doots™ are hip, huggable art stuffed with charming personality!  We're whimsical, soft-sculptured collectibles inspired by nature, uniquely handcrafted from knit-to-shape, fulled (felted), and needle-felted wool. We are the perfect gift for the young at heart as hip, huggable art and delightful décor all in one collectible critter. 
OUR MISSION IS TO INSPIRE SMILES, GENERATE JOY, and, TO LOOK REALLY COOL ON YOUR COUCH.
No two Snooter-doots are alike. Each has personality with its own name and birthday and is ready for adoption. Are YOU our forever family?
Related Products
---